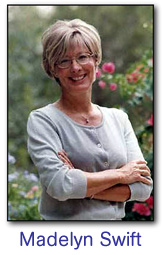 Realizing that both Mommy the Good and Mommy the Bad resided within her, Madelyn began her journey of discovery into disciplining children. When you find yourself promising to be nicer to your children or students or discover yourself screaming like a banshee, you will seek the wisdom of Madelyn Swift, Founder of Childright. She is an internationally recognized author and speaker and has served as a school psychologist, teacher, and educational consultant. She has presented programs to national and international associations including the National Association of Independent Schools, National Association for the Education of Young Children, Association for Young Children Europe, New Zealand Early Childhood Council, Young Presidents' Organization, Johnson & Johnson, United States Armed Forces, PBS, International Nanny Association, National Association of Elementary School Principals, and Head Start.
An often quoted resource, she is the author of three books: Teach Your Children Well: A Parent's Guide to Encouraging Character and Integrity, Getting it Right with Teens, and the influential work, Discipline for Life: Getting it Right with Children. As well, she has written numerous articles in publications as far ranging as Scholastic Parent and Child, Family Education Today, Family Information Services, The Houston Advocate, and The Washington Post. She is a frequent guest on both radio and television. Madelyn has developed DVD and CD media training programs for parents and educators.
As a keynote speaker and trainer, Madelyn captivates her audiences with warmth and humor even as she chips away at misconceptions and missteps regarding children. She demystifies what it takes to get it right with children a she leads participants to new levels of understanding regarding not only coping with children, but dealing with all people. She deftly blends technique, information, stories and age-old wisdom. Her programs stress skills, strategies and the understanding necessary to deal with children. A veteran at handling off-the-cuff questions, Madelyn is quick-witted, articulate and perceptive. Her message focuses on integrity: practicing and teaching children only what we believe, and on the Law of the Harvest: children will learn what we teach them and our teachings will return to help or haunt us as our children age into adolescence and adulthood. No shortsighted view here. Key elements include accountability, respect, responsibility and authority.
Regardless of background, all audiences admit that bringing up their children right is by far the most challenging yet most important job they will ever have. Madelyn's extraordinary message touches audiences and leaves them feeling renewed and confident in their ability to rear their children–no small task. Educators return to their classrooms with new insights and skills and with renewed determination and enthusiasm.